Article By: Pam Boschee, Senior Editor | 04 October 2017 – Society of Petroleum Engineers
As Permian Basin production has grown, so too has the demand for fresh water, transport, and disposal of waste water. Bloomberg recently reported that the average Permian well pumps 7 barrels of dirty water for 1 bbl of oil and put the service cost of water disposal at about $1.50 to $2.50/bbl, driving operators to look for cost savings and improved efficiency in the water management side of their business.
Joining the Ranks
RRIG Water Solutions, a Fort Worth-based water transfer company, acquired a 475-mile pipeline located in the Eastern Delaware Basin from Oilfield Water Logistics. The pipeline has the potential to move more than 2.3 million bbl/d of fresh water for oil and gas operations located throughout the Permian Basin. The acquisition expands RRIG's freshwater capabilities and overall footprint in the basin. Stratton Haley, RRIG's president, said, "RRIG Water Solutions understands that the most expensive water in the oil patch is the water that never arrives. With that in mind, we are committed to investing in pipeline infrastructure to improve access to large volumes of water throughout the Permian Basin."
Solaris Midstream merged the operations of Water Midstream Partners (WMP) into a subsidiary, Solaris Water Midstream in December. WMP provides water midstream services to producers in the Midland Basin. Following the transaction, Solaris Water provides water gathering and disposal services to more than 20 E&P operators who have dedicated approximately 50,000 acres to Solaris Water's assets. WMP developed and operated more than 120 miles of commercial saltwater pipeline systems connected to networks of multiple SWDs over the past 8 years. The WMP assets included more than 35 miles of commercial saltwater gathering pipelines serving multiple producers in Midland, Howard, Martin, and Dawson counties in Texas. The gathering systems are connected to multiple SWDs, including two WMP-operated SWDs. Prior to the merger, Solaris Water began developing a saltwater gathering and disposal system in Midland County, including a high-capacity SWD in the Ellenburger formation. Solaris Water's Midland County system will be connected to WMP's Midland County system, creating a system with 100,000 b/d of disposal capacity
H2O Midstream's acquisition in June of produced-water infrastructure from Encana Oil & Gas (USA) in the Permian resulted in the takeover of Encana's existing produced-water gathering system that comprises more than 100 miles of interconnected pipeline and five SWDs wells with a total permitted disposal capacity of 80,000 BWPD.
WaterBridge Resources acquired EnWater Solutions, a produced water gathering and disposal company in the southern Delaware Basin, in August. WaterBridge plans to expand the existing gathering business into a full-cycle, closed-loop water infrastructure system to offer regional producers integrated water supply and management solutions. Located in Reeves and Pecos counties in Texas, EnWater's current assets include five SWD wells with more than 100 miles of interconnected gathering pipeline and nearly 150,000 b/d of permitted disposal capacity. By year-end 2018, WaterBridge expects to reach more than 300,000 b/d of total disposal capacity and 200 total miles of interconnected pipeline for gathering.
Goodnight Midstream, a fluids management company, announced in June multiple acquisitions and the addition of personnel to support the company's on-going expansion in the Permian. Following the transactions, the company controls produced water gathering and disposal from 10 facilities in seven counties across the basin. Goodnight acquired the produced water gathering and disposal business of Black Mountain Disposal in Glasscock and Reagan counties, as well as four water disposal facilities formerly operated by MTN Energy located in Andrews, Ector, Gaines, and Loving counties.
Rockwater Energy Solutions and Crescent Companies agreed in March to combine the two companies to provide water sourcing, transportation, treatment and storage capabilities, remote monitoring and control, water treatment, flowback and well testing services, fluid logistics, and production and fracturing chemical technologies.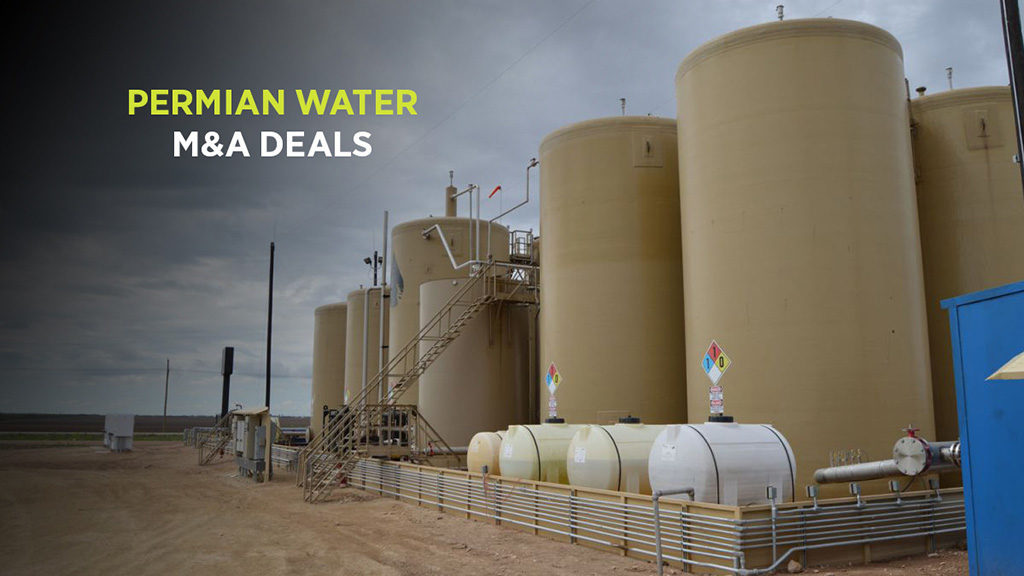 https://www.spe.org/en/ogf/ogf-article-detail/?art=3468